Investing in safety is essential to eliminating a series of risks and avoiding accidents; ensuring and preserving people's lives. However, it goes far beyond than just installing fire extinguishers and conducting training. It is also necessary to observe and know the escape routes, and emergency signs.
Unfortunately, the installation of sign symbols, and reflectors often goes unnoticed. It increases the risks in that environment.
What many people often neglect is that it is the emergency signaling that guarantees the free movement of people – residents, employees, customers, among others – in a safe way.
In addition, they indicate rules that need to be followed, and warn individuals of the presence of dangers and risks. Have you ever imagined an unmarked fire door?
Types of emergency signage
Among the main types and most used models of emergency signage, we can highlight the emergency exit sign and safety signage for stairs.
Emergency exit
Emergency exits are one of the most important signs to ensure safety in commercial and residential establishments. It is responsible for indicating the direction of the nearest exit, facilitating the transit of people in case of fire or any other emergency.
Simple and easy to find, and basically consists of a drawing of a person leaving through the door and an arrow that indicates the direction to be followed. The sign is extremely useful and should be installed throughout the escape route to help in times of panic.
As mentioned above, it is important that the emergency exit doors are properly identified. This ensures that people can easily access the doors.
Safety for stairs
There are also safety signs for stairs, essential for preventing accidents on different levels. Like the previous sign, these identify the presence of stairs and must be placed before the steps.
It is important that people are aware of the unevenness of the steps, preventing accidental trips or falls. In addition, ensuring that people run to the stairs and not cause chaos.
Photoluminescent plates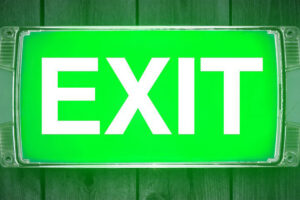 With the advancement of technology, emergency signs as well as regular signs have greatly evolved. Currently, most of the models available on the market are designed to emit brightness in completely unlit environments.
The idea is to have the signs "light up" to allow the reading of notices and symbols. This ensures that equipment and escape routes in emergency situations are easily found.
In conjunction with this technology, tactile signaling has recently entered the market. Allowing the visually impaired to easily find escape routes, thanks to alert and directional tactile flooring, signs in braille, etc.
How to make emergency signs
As its name suggests, emergency signs are essential to ensure the safety of people in case of incidents.
However, for its action to be effective, it must be installed according to the Fire Department plan and follow the standard dimensions.
The signs that indicate the escape route, must be placed in high visibility positions in order to allow immediate and clear communication. Those indicating fire-fighting equipment should be placed close to fire extinguishers, hoses, etc.
Meanwhile, the signs of obstacles, stairs and dangerous places need to be in strategic positions for workers to be aware of what lies ahead (construction site, stairs, etc.)
Safety signs are made up of four types
Did you know that safety signs are classified into four types? Signs, stickers and reflectors are not only found in the use of emergency symbols, but also used for obligation, danger and warning.
Obligation signs indicate the need to use Personal Protective Equipment to avoid accidents at work;
Danger signs are mandatory for caution, precaution or what areas to avoid. Generally, these signs are made with a message, such as "restricted area", "high voltage", "risk of falling objects", among others;
Warning signs indicate dangerous attitudes that must not be carried out on site and are generally composed of symbols, such as those that indicate some flammable and radioactive material.
Now that you know the importance of emergency signs, how about taking the opportunity to transform your establishment into an increasingly safe place for your customers?
We are available to meet your demand and answer your questions. Contact now!